L A D I E S and G E N T L E M E N . . .
M i S S E R M A F R A N K L i N !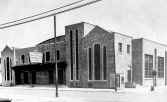 (New Bethel*)
Erma was born in Shelby, Mississippi in 1939. When she was four years old, the Franklin family moved to Buffalo; when she was six, they moved to Detroit, where her father became the minister of New Bethel Baptist Church. The following year, Erma became a regular in her father's choir.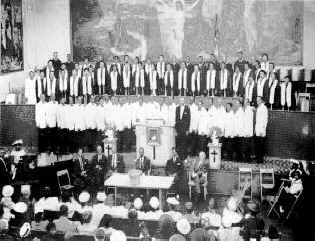 (New Bethel Choir*)

(Cecil, Erma, Rev. Franklin, Carolyn and Aretha*)
While attending Northern High School, encouraged by members who later would become the Four Tops, Erma formed a vocal group called the Cleo-Patrettes at age 14. They sang rhythm and blues and soon made a name for themselves in the Detroit area, winning an all-city talent competition.
"Everything was fine but my father was firm with me and told me I had to continue my studies. At the time, a singing career was never considered a serious proposition, so back to the books I went!"
Upon graduation from high school, the group disbanded.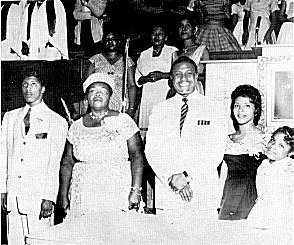 (Cecil, Big Momma, Rev. Franklin, Erma and Cousin Brenda*)
After High School, Erma toured the country for two years in her father's gospel group.
"The tour was a lot of fun," Erma recalls. "but it was very tiring, because the majority of the shows we did were one-niters. But it was an educational experience."
Continuing with her studies, Erma met up with a young Berry Gordy, who as we know today would form the legendary Motown label. Erma recalled how they went to Chicago to do some things with Chess "and we hardly had two bits between us." At Chess, they met up with producer Billy Davis but nothing came of it except being an inspiration for a huge hit later for Etta James called "All I Could Do Was Cry."
As the story goes: "I was supposed to do a session at Chess, but I'd been through the experience described in the song. A guy I'd been dating was getting married and he asked me to the wedding. Well, I had to go into the studio a few days later and I was still cut up about it. So much so, that I was in no mood to record. When they asked me why, I explained what had happened to me. Some time later, the same idea was used by someone at Chess for the song. Imagine how I felt when I heard it!"
Erma was all set to join Motown and would have recorded many of the early songs later sung by Marv Johnson and Mary Wells but, Rev. Franklin prevented it. "I couldn't very well argue with my father when he said it was a choice between leaving home and singing or staying at home and studying - so I decided to stay at home and study!"
"And later on I was glad I did!"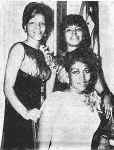 (The famous `Franklin Sisters' in 1965#).
During this time younger sister Aretha was signed to a recording contract from Columbia records. Fortunately, the success Aretha's debut album in 1960 made Rev. Franklin rethink his decision, and the following year Erma was signed to Epic Records, sister company to Columbia Records by epic's then A&R man, Dave Kapralik. Kapralik later brought Sly and the Family Stone to Columbia as well.
"At the time, Epic wasn't into R&B and I had the same problem Aretha had at Columbia: The company just didn't know what to do with us. I think maybe we were too soulful for them! I was there for a total of 5 years until 1966. I cut enough material for two LPs within that period and decided since they didn't know how to handle me or my music I decided the best thing to do was sit out my contract."
"You know, It's funny about those contracts. You sign them and you don't know you've become trapped when things don't work out for you."
Erma on Compact Disc Erma's Home Page
Photo Sources: * - "The Rev. C.L. Franklin" souvenir program (1958)
# - Taken at The Statler-Hilton Hotel - at a Pre-Anniversary Banquet in honor of Rev C. L. Franklin (Friday, May 21, 1965) Michigan Chronicle.