L A D I E S and G E N T L E M E N . . .
M i S S E R M A F R A N K L i N !
"You know, when they signed me, everyone was really excited and we got a single out, "Gotta Find Me A Lover". After that, I was told we'd be doing an album but instead of sending me material to work on, I heard nothing and when the time came to record, they asked me what songs I did on my live performances. Well, that really isn't the right way to do an album and I was very upset at the way they handled it all."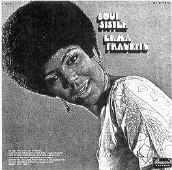 (Erma's last LP on Brunswick, "Soul Sister").
"You know, after all the trouble at Epic, then Bert dying at Shout, I really had high hopes for Brunswick but when things weren't happening, I was talking with Aretha and she suggested that, seeing how I needed a record badly, I should have her production company, Do It To It, work on me. I asked Brunswick and they said the idea of Aretha as my producer was fantastic, so go ahead.
"Well, we were all ready: Aretha and Carolyn had some really great material together and Aretha was going to fly out her own 24-piece band to Chicago for the session and pay all expenses. On the week we, were due to record, King Curtis was killed and you know how close he was to Aretha. He was, in fact, due to have been on the session himself. Well, naturally, Aretha was broken up about it all - so we shelved the idea for a few weeks. When we were ready to get it together again, Brunswick suddenly hacked out the idea, saying they had their own producers and so on. "You can imagine how I felt and after that, I guess, I just gave up on the company altogether. The worst part of the whole thing is that I've had to sit out my contract yet again".
Erma did one or two more sessions of which produced four Jackie Wilson covers. Her last Brunswick single, backed version of two recent hits, by label-mate Jackie Wilson - "Whispers (Gettin' Louder)" b/w "(I Get The) Sweetest Feeling". Both with the same instrumental backing track as the original versions makes this a most desirable vinyl in collector's circles.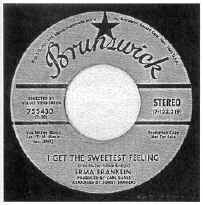 (Always popular on the dance floors, Erma's cover of the Jackie Wilson hit, "I Get The Sweetest Feeling".)
After the success of the single, literally nothing happened. Erma's career started to taper off. She returned to Europe in 1972 for shows in the U.K., Germany and Italy as well as to the Caribbean and Liberia while raising her daughter, Sabrina.
"She really wanted me to come off the road and come home to Detroit. So that's basically what I did. I returned home and began working in the public relations field."
(Erma, Carolyn and Brenda, 1987 %)
Erma has also appeared in the play "Season's Reason's", sang backup for Aretha's 1982 LP, "Jump To It", the 1987 gospel double-LP, "One Lord, One Faith, One Baptism" (recorded at the late Rev. C.L. Franklin's New Bethel Baptist Church) and performed at Detroit's Music Hall and in June 1990 rally for Nelson Mandela and performed on the Oprah Show singing background and sharing the stage with sister Aretha to perform lead on "Hush, Hush, Sweet Charlotte" in a favorite childhood medley the Franklin Sisters loved to sing to their Daddy.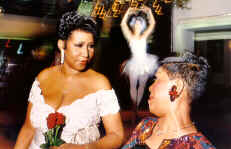 (At sister Aretha's birthday party in Detroit - see the love +)
Erma has devoted most of her time and energy to Boysville of Michigan Inc., the largest child care agency in the state, acting as the liaison for twenty-five or more similar agencies in Michigan.
When Erma heard about the current excitement in Europe surrounding "Piece Of My Heart", she was stunned to say the least. "Most know the song because of Janis Joplin's version. I was shocked on night when I heard Deborah Harry correct a TV show host by telling him that I had done the song originally. And now to what's happening to the song in Europe, to say I'm pleasantly surprised is something of an understatement".
"To be honest, I never even recognized the song when I first heard Janis' version on the car radio. Naturally, it would have been great to have gotten the exposure, airplay and sales that she got but her version is so different from mine that I really don't resent it too much."
SOURCE: Text, interviews and quotes are taken from:
Blues & Soul (Oct. 12-25, 1973) by David Nathan (The Ambassador of Soul)
Record Collector (Jan. 1993) by John Reed
Thank You for visiting and please - "Take another piece of my heart now baby!" - check back soon and hopefully this site won't still be under construction.
Please feel free to write me with suggestions: ALFarchives@aol.com
You Are The
Visitor To This Site

THANKS FOR STOPPING BY!

Erma on Compact Discs

Back to Erma's Home Page.

Photo Sources: % - New Bethel Baptist Church, Detroit, Mi. 1987 - (Norman Parkinson)

+ - From the book "Where Music Comes From" 1996 - (Nubar Alexanain)